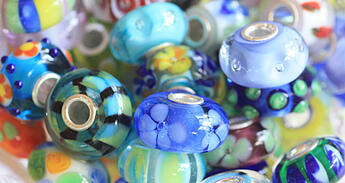 Trollbeads Gallery and Rogers Gallery on the SouthCoast of Massachusetts is hosting the first of it's kind in the U.S. Festival, Trollbeads Fest! 2010. October 15th & 16th!
When each new person signs up for the TrollbeadsFest! 2010 I get that much more excited and then I start adding more things to make everyone's experience that much more special. Check out the Fest's exciting schedule of events.
As many of you know we have a special website just for Trollbeads Fest! 2010 and there you can discover all the great events we have planned along with offering super Unique Trollbeads and T.E.L.S.! T.E.L.S. is a new acronym for Trollbeads Experiential Learning Stations! Yes, it's obvious I just made it up, but it works. These stations will be hosted by the New England Rep Group of Kim Wahlberg. Some of you have met Kim and her group at a variety of Trollbeads functions from New Jersey to Maine. Kim and her team are very adept at showing how to use the Fantasy Necklace in more ways that you can imagine, how to use the leather bracelets and how to use the new Trollbeads Earrings in all 83 different combinations. I think Greg, the Trollbead rep for Maine, would be a good one to work this station! We have just added one more group to the TrollbeadsFest! 2010 and that will be a table for retired Trollbeads. Our Retired Trollbeads Gallery website has a great collection of retired Trollbeads and these will be interesting and educational for so many of you new collectors to see.We will have quick and easy directions to and from each destination.
While this event is going on in New Bedford at the brand new Fairmont Inn and Convention Center, our store, Rogers Gallery, in nearby Mattapoisett will be showing our Trollbeads Museum. The museum is a collection of retired Trollbeads from 30 years ago to the recently retired. Please feel free to visit and enjoy seeing the evolution of Trollbeads designs.
The first Harbor Cruise has SOLD OUT but I have just learned that we can schedule another one so PLEASE let us know if you are interested and we can set it up. Also, if there is something I haven't covered that you would like to see us offer or do, let us know. We are always open to new ideas!
As you know we are thrilled to have Suzanne Hopping come all the way from Australia to sign the Trollbeads coffee table book for us."An Icon in Jewelry Design, Trollbeads". If you have already purchased one you can bring it (if you are strong enough!) she can sign the copy you own. We will also be offering the book for sale at the event. If you will want to purchase one please let us know so we can be sure to have enough copies in stock. Suzanne was the winner of the 2009 People's Bead Award for her "Pax" bead. Suzanne and her husband just made it on the first Harbor Cruise before it sold out!
It has just been confirmed that Kristi Denning from Maryland, the 2010 People's Bead Award winner, will be coming to the Trollbeads Fest also. The only two winners of the People's Bead award will be together at our Trollbeads Fest!
If you haven't purchased your tickets you may want to do so now as they are limited. Trollbeads Fest! 2010