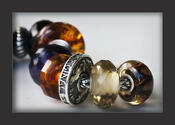 What an amazing time the last few months have been for Trollbeads!! Starting with the Anniversary Coin, on to the remarkable Autumn release and now to the brand new just released Christmas 2011 Trollbeads. Phew it has been a busy time for Trollbeads and forTrollbeads Gallery/Rogers Gallery. While all of these releases were occurring we managed to host the second Trollbeads Fest! (which although on paper it is only a two day affair... but with people coming early and leaving late it ended up a whole week long!) and just this past weekend we had a very busy Special Event at Rogers Gallery. It's true Trollbeads is more professionally advertised by the marketing team at Trollbeads-United States but also by the retailers who have received a lot of support from the graphic design team at Trollbeads-United States. While the newest beads were just released and while the stats have only given them 4 days to perform but we have one of them already showing up on our top 10!! I have included links to each bead so you can quickly check them out if you don't know about them!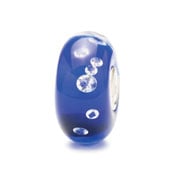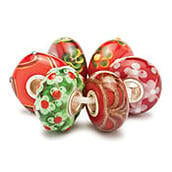 The New Christmas release has been very well received and the two limited edition kits have been exciting a lot of collectors. The solid red and blue beads with the gold on them are outselling the other beads and I think that the other beads in the kit are being overlooked because everyone is so head over heels in love with the glitter. So if you haven't focused in on the other beads go do it now as you're missing out.
The green flower on red looks like it is literally floating in water! It's sensational. The bead from the blue set that you need to focus on is the one that looks like stained glass.
The Red Tiger Eye is another winning Precious Stone bead to add to the other great stones. I adore it as did many that we had at our special event this past weekend!
Of course the new silver Mistletoe is already a favorite but I expected that knowing how sentimental Trollbeads collectors are!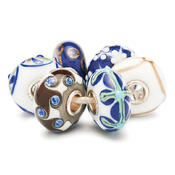 The Amber and ANniversay Coin photo was taken by Ginger from Trollbeads Gallery Forum.