The Time is Here!!
If you are a long term collector of Trollbeads you probably know the time has arrived to kick off the People's Bead contest and this year has, I think anyway, the most fun challenge ever!
For the fifth year in a row, Trollbeads is offering you the unique chance to become a Trollbeads designer. Each year thousands of entrys are submitted and the final choices are always voted on by the "people". Everyone has an equal chance This is your chance to have your bead added to a new Traditional Sayings Collection, and again this year we will have multiple winners!
Now you may be thinking why does Louise think this is the most fun challenge yet? Because when you look around and think of some of the "traditional" sayings they can be quite funny. Culturally it shows the character of your country's history or the character of all the origination of these sayings. There are so many that come from authors, poets and the pop world from which we can draw inspiration. Some sayings we may never know where many of them come from and that is fun in itself. So many traditional sayings have been verbally passed down through the years and through the generations and that's another great thing about this topic! It offers us a thread that will lead us to even more connections through Trollbeads and afterall that's what they are all about.
Theme: Traditional Sayings
What: Illustrate your favorite traditional saying in a bead and share it with us!
When: March 18, 2013 – April 10, 2013
How: Upload your design on Trollbeads Universe
Different cultures have different sayings, and we are excited to see which saying means a lot to you and to see how you translate it into the shape of a bead. Of all submitted designs, 100 beads will be chosen for the final vote and presented on Trollbeads Universe.
At Rogers Gallery/Trollbeads Gallery we have been honored to have 3 of the past Peopel's Bead Award winners join us at Trollbeads Fest. During Trollbeads Fest! 2010 we had the first winner, Suzanne Hopping from Australia join us along with Kristi Denning from Maryland! We have been most fortunate to have Kristy live so close to us and she has been to all three Trollbeads Fest. Suzanne won for her Pax Trollbead (shown above) and Kristi won for her Ice Bear. The Fest was actually right after Kristi learned she had won the contest and she was able to bring the model she has sent to Trollbeads. Look at the image below and see how she created the bead in 3-D. Trollbeads had suggested you can send your ideas and designs in any format worthy of your design. Try folded paper! Try sculpting clay or whatever you feel most comfortable with!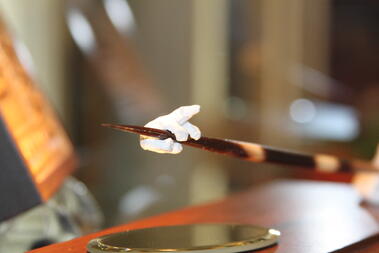 One of the Third Peoples Bead Winner, Maria Af Rolen also from the US, West Virginia via Stockhlom Sweden joined us during Trollbeads Fest! 2012. Maria won for her spirituality themed bead "Stay Postive". I have just receive a note from Maria and we have her 2013 entry to show you! Her Theme is "Man's Best Friend"!

Below I am showing the "Stay Positive" bead and the "World Within" bead which is also a 2012 People's Bead winner by Linda Karuso of Australia. We are very fortunate to have all 3 Trollbead People's Bead Designers as members on Trollbeads Gallery Forum.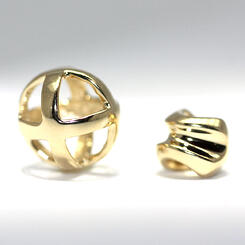 So my dear Trollbeads Friends get out your clay and sharpen your pencils the contest is on! You have only a couple of weeks so "shake a leg" and "get a move on it" and don't forget to vote when the time comes!
Here is a link to a great list of sayings to help you along! Old Sayings Collection
Good luck to all!
Louise Rogers