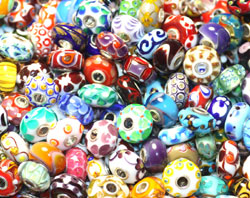 Trollbeads Fest! 2012
The actual excitement begins when we start our plans for Trollbeads Fest a month after the previous Fest ends. This way our memories are fresh and we can proceed with planning so everyone has an even better experience at the next Fest! It is important to change it up each year and we work hard on creating an event you'll want to come back to again and again. After looking through the ticket purchases I can see we have a good number of people returning for a 3rd time! Another fun note: we have attendees coming from as far as Wales and the Netherlands!
Last year the bead table with the unique Trollbeads was quite overwhelming. Everyone wanted to see all the unique beads all at the same time! It was a frenzy of people and some had stronger elbows that others and some never left the table and there were some who never got to the table! We love the enthusiasm but we would love all of you to have a fair time with the beads this year. Our plans are to have 3-4 tables each with one attendant with 3-4 trays each. When you have selected your beads, we will keep them aside for you in bags with your names. When you are finished looking through the trays on one table you can move on down the line to the next table and start a new bag to be put aside and so forth. After you have picked out all that you want, we will get your bags and take to cash out. We will be replenishing the beads through out the day so everyone should have a fair chance at the unique beads. I am hoping this will be fair for all. There are some stunning beads and I think you'll all be happy with enough to go around.
This year Trollbeads Fest will be host to leading bead designer Soren Nielsen who will be visiting from Denmark. Soren will be giving wax carving demonstrations showing how his ideas once formed in his head are then carved in wax. From the wax a mold is made to use for creating the actual beads in silver and in gold.
We also have this year's People's Bead Award winning artist Maria Af Rolen who will be signing bead information cards for "Stay Positive". The 2012 winners were just announced this summer and Maria is a member of our Trollbeads Gallery Forum. Another member and winner of the 2012 People's Bead Award is Linda Karuso from Australia. Linda cannot attend this year but has been good enough to pre-sign cards for attendees to receive with their "World Within" purchases. To celebrate the event and the winners success we have commissioned Trollbeads to make their winning beads in 18K Gold in a limited quantity. We will be offering them for sale at Trollbeads Fest. We are also looking forward to seeing "Ice Bear" bead designer Kristy Denning who has never missed a Trollbeads Fest event! She was the second People's Bead Award winner in 2010 for her "Ice Bear".
Michael Bellevue, the CEO of TrollbeadsUS will be speaking about the company and about the exciting direction it is taking. Only on board now for over a year Michael's team and the Denmark team work hand and hand in focusing their attention on the bright future of Trollbeads. He will be sharing what he can and I for one am very excited to hear it!
Along with Bead Photography Lessons Ginger will be addressing our user needs for photography on Ipads and Iphones. Ginger was with us for the first Fest and I am so happy she is returning for the third and with all the tech updates I know we all happy she is coming back!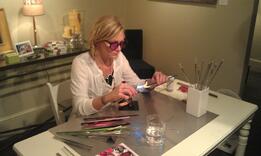 Sarah Johnston from Trollbeads will be back once more to give glass bead demonstrations on both Friday in Mattapoisett at Rogers Gallery and on Saturday at the event in New Bedford. We love Sarah and how in the midst of pandemonium she calmly goes about creating glass beads and works her magic. By the way for those of you who haven't tried it glass bead making is a lot more difficult than it looks!
The post-fest dinner Saturday night has many treats along with a guest comedian from L.A.! So if you are coming to the Fest make sure you have dinner all blocked in as it will be the most special one to date. The Trollbeads team will be staying for the dinner so please join us all for a final farewell feast. The food is great but the company will be the best!
Please view our quick videos on the first two Trollbeads Fest and smile along with us!
http://www.youtube.com/watch?v=ByHPnE7X2PE&feature=plcp Trollbeads Fest! 2010
http://www.youtube.com/watch?v=tK8RFLQi_as&feature=plcp Trollbeads Fest! 2011
Just try to count the smiles on the happy group of collectors that come from all over the world and many different states to share a most memorable time celebrating their love of Trollbeads and the friendships formed around this outstanding bead brand.
One more great link for you! Today the jewelry trade's top magazine published a blog all about Trollbeads Fest as a way to honor our retail creativity! They wrote an article last year after the event and we were so honored.
September 17th In Store Magazine Blog on Event Thank you In Store Magazine and Eileen!
To finish here is one more very quick video to entice you to come visit us on October 5th & 6th for Trollbeads Fest! 2012. There's only a few tickets left so grab a friend or two and come join us.
http://www.youtube.com/watch?v=glX2NcE128A&feature=channel&list=UL