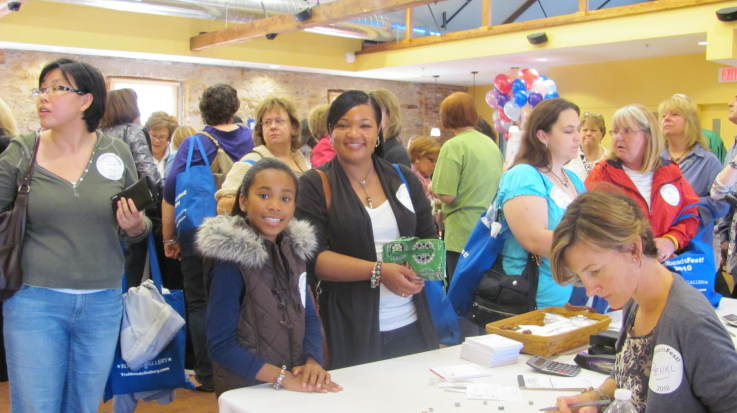 Trollbeads Fest! 2010
Rogers Gallery /Trollbeads Gallery
New Bedford, Mass.
October 15 & 16 2010
Post Trollbeads Fest! 2010 Letter
Dear Trollbeads Fans,
How can I thank you all enough for everything you each brought to our amazing event? It has been referred to as a truly historical event for Trollbeads in the U.S. and we should all be proud to have been a part of it. I have tried to imagine what I would say to you but words can't quite express it. Having been present, you know what I mean.
There was something magical in our midst, palpable yet indescribable. Mary Jo Coe, the National Sales Director for TrollbeadsUS, summed it up by saying what we created and what the event embodied was exactly what Trollbeads is all about. So I thought I would sum up the event in Trollbeads.
Friendship Bead. Do you realize that our Forum is only 1 ½ years old and we were more like old friends at a high school reunion? Look at some of the photos and you'll see why I think that. The closeness we all felt allowed us to" let our hair down" and be who we are and enjoy the moment with friends and with Trollbeads. Our forum had brought together a very real sense of ourselves relating to each other through our hearts.
Pax Bead. Having the designer, Suzanne Hopping and her husband with us from Australia created a sense of the world just as she portrayed it. Protected by the doves wings we were safe amongst each other to celebrate our love of Trollbeads and our own community.
Waves Bead. How was I to know about the Northeaster storm hitting New England mid-October when I planned the event and the accompanying Harbor Cruises? Frede got a wave in the face and I know a lot of you other hardy souls did to!
Three Monkeys Bead. There was definitely mischief about! The monkeys were busy will pranks and tricks although I would love to name you all, I can't! 1 monkey would be Maddog, 2 would be his sidekick Mary Maddog and 3 would be Mary Anna the screamer!
Angel and Devil bead. Dearest Frede, with your smooth southern accent and your tall stature you resemble an angel in all ways…but boy what a devil you are! Our Soren didn't know what he was in for!
Lucky Knot bead. This bead is for luck and happiness and we surely had luck and happiness all covered for our Trollbeads Fest. My face still hurts from all the smiling and laughing.
Harmony bead. Most importantly this bead is about harmony, something our gathering was graced with and out friendships are sealed by.
Victory bead. This I dedicate to New Bedford's Mayor, Scott Lang. At our dinner Saturday night Scott gave a great talk sharing his love of New Bedford and its history for everyone to take home and share. Scott has been leading New Bedford to rise again to its past prominence with grace and intelligence, which are two things not often seen in politics. Thank you to Scott and to his wife Gig, our courageous event planner!
Transition Man bead. I definitely want to give a "Hat's off" to all the wonderfully patient and enabling spouses. What amazing men! I have never seen such supportive men and the best were the ones that ended up sporting their own Trollbeads by the end of the Fest! You guys are the real men!
Yesterday all of our gang from Rogers Gallery and Trollbeads Gallery assembled for a post Trollbeads Fest meeting. Before I knew what was happening Carole, Penni, Nate, Marjorie, Ruth and Gig were all chattering about Trollbeads Fest! 2011. Did you all notice I left Ben's name out of it… actually we are all on board for next year. So many people wanted to be there that could not be this time around that for we owe it to them and to everyone else asking for Trollbeads Fest! 2011, we are off and running!!
Please accept my heartfelt thanks to everyone who came and who made the effort to travel to be a part of this amazing event. We all made it what it was.
Warm regards,
Louise
PS. If you have not joined Our Trollbeads Gallery Forum do so! You can catch all of the photos from Trollbeads Fest and believe me they are high on the factor!