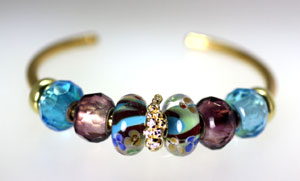 It's Party Time!!
When we decided on the dates for our Winter trunk show we kept you, the collectors in mind. Yes it is somewhat close to our Fall trunk show but we wanted it far enough in front of the holiday shopping time that you would still feel compelled and comfortable enough to indulge your own collecting needs but at the same time if you did want to purchase Trollbeads as gifts that can happen too! I love to give away beads so get shopping! As many of you know you Purchase 3 beads to receive the 4th one free. The free bead has to be less or equal to the value of the lowest priced bead you are buying. There is no limit to the offer so get busy! We are ready!
The photo above shows the new Golden Bangle just release by Trollbeads in the Winter release. Click on this link to see it. It has been very popular and here you can see two of the limited edition Daydream Blossom beads. To take advantage of the Trunk show and add some of the new Winter release to your collection follow this link! Holiday Collection 2013.
If you have been following my activity on our very popular Trollbeads Gallery Forum then you are aware of the 4 very special limited edition glass beads that Trollbeads created for the U.S. market. The 3 armadillos and the Daydream Blossom. All of these limited edition beads are only $31.00 and are all very worthy of being added to your collection. Limited Edition Beads. Click here to order for the Trunk Show. Besides these beads we have added our Mini Unique Beads category since the last trunk show and hope you will look through these beads! As always we will be adding many Unique Trollbeads through out this week because you can already pre-purchase for the event. I have been very busy adding unique beads and will continue to do so. We just got in a great group of new uniques and will try to get them all listed! One other category our Trollbeads Gallery is well known for is our Trollbeads With A Twist. This category offers regular glass Trollbeads that I individually photograph so you can see the bead you are ordering. I started this category to highlight glass beads that were always different in appearance and while I still hunt for those unique renditions I also photograph beads that are a perfect example of what they are meant to be. The Trollbeads Amethyst - or any stone bead is a perfect example to purchase this way. I know from talking to Trollbeads collectors though the years it is very hard to purchase on line if you can't see what you are buying. While Trollbeads With a Twist is a labor of love we have many customers who check it out daily just to see what is new. Just recently we offered up 2 absolutely perfect Rubies and two perfect dark blue Sapphires. It's worth the time to check it out when you can. I will be adding beads here too through out Trunk Show week so buy any to reserve and then we will figure out your free beads at the end of the event. Trollbeads Gallery has always been a great website to find the unusual and we will always try to offer you the best we can.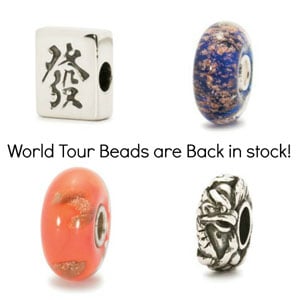 Another treat we have added for this event is the new addition of the World Trade Trollbeads we had been sold out of before. Favorites like the Hong Kong Skyline, Mahjong, the Beetle, Viking Ship and the lovely African Pride Lion are now once again available for a short time. As always I think I have over purchased but the word is out and the beads are selling well so jump in and see what we have and order up. Again we can figure out your free beads when the event is over or you can figure them out yourself and add them in the notes section as you check out.
A special treat we are offering our Trunk Show customers is a free gift with purchase! Unique to only Trollbeads Gallery if you purchase a total of 4 unique Trollbeads you may choose from a collection of 5 Dangles. These have a retail value of $45.00 and are made by me with artisan glass beads and there is one with a fresh water pearl. Quantities are limited so let us know your selection in your order notes!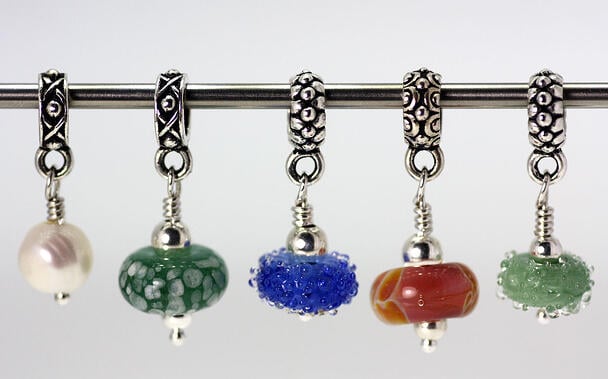 A brief description is all that is needed. Now go order up some yummy uniques and get a free Dangle!
-Louise Rogers