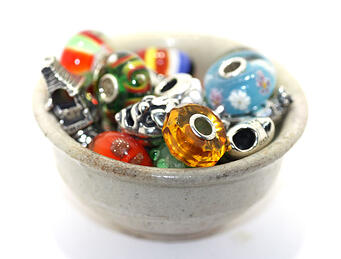 Our summer Trunk Show begins on Friday, July 20th and runs through Monday July 23rd...but if you want to take advantage of the retired silver Trollbead offer-email us asap to have us hold the beads in your name as all retired have limited quantities!
As a Trollbeads trunk show draws near we can feel the energy in the gallery change as the excitement grows. There's a fun aura of expectancy because you don't know who will come in and who will call and what they will order! So many customers develop into friends so it feels like having a party. People love events like this and it's fun to see who are usually careful bead "plodders" loosen up a bit and enjoy the event! If you are wondering why we share in the glow from the fun it's simple. We feel this way because we get to give the specials and quite honestly it feels great! For us it's the one time we can offer specials and offer the great collectible Trollbeads gifts and our collectors get so excited and can't wait to order and be a part of the trunk show celebration. Quite simply it's a win-win for us. It's a special time we can give special prices and it's a way of saying thank you to our collectors. As retailers we come about our feeling of the thrill honestly because it's fun to be a part of this and shows the gratitude we feel to our collectors from us! If you're wondering why I'm discussing the specials and gifts coming from the retailers I like to remind collectors that it's the retailers offering these specials to you. Many collectors are under the assumption that the specials are coming from Trollbeads (even more so when there are now national trunk show dates).
Our offerings are plentiful and are on different levels so we have chosen, once again, to offer the Trunk show through direct calls or emails. This way we can explain the best way to take advantage of all of the offerings to your best advantage.
Please feel free to call us or email us with your order
Our Offers to you include all beads including the World Tour beads!
Purchase any 3 Trollbeads and receive the 4th bead free. The free Trollbead will need to be equal to the lowest priced bead in the group of 3. So choose your group of 3 beads with this in mind and make this work to your advantage! There is no limit to the number of groups you may choose. Our World Tour Trollbeads are included!
Purchase any gold Trollbead (over $500) and receive $100 off!
Purchase any silver/gold Trollbead and receive $50.00 off! (Over $300)
Purchase 3 Retired Silver Trollbeads from the list below for $99:
Aztec, 5 Faces, Triangles, Pentanque, Unity, Transition Woman, Transition Man,
Bird, Cactus, Etruscan, Fabled Faces, Neither Fish Nor Bird, Sandi, Tower, Viking, Two Trolls -
(from the Anniversary Bracelet!)
7-18 Update!! Just added!!! Clown, Mink , 8 Faces, Big Bird

Quantities are limited on retired beads so please call to reserve what you want and we will process the order during the event.
Buy any Upgraded Clasp for a free chain.
Our gifts for you:
Spend $175 receive a Trollbeads Memory Book
Spend $250 receive a NEW Green Leather Jewelry Pouch
Spend $500 receive a Trollbeads Coffee Table Book
Spend $750 receive a Trollbeads Jewelry Box
Our Trunk Show is on Friday, July 20th and on
Saturday, July 21st (office will be open for calls both of these days)
Sunday, July 22nd (no one in office) and on
Monday July 23rd -office will be open for calls!
Office Toll Free: 1-888-758-3641
Email: Louise@TrollbeadsGallery.com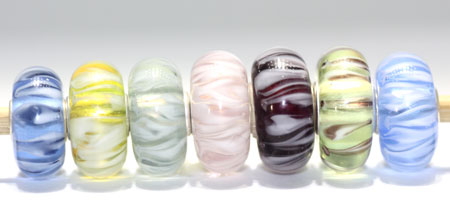 Above is a sample of our unique Trollbeads "Feathers"! Our Unique bead category is the most active of all unique bead sites. We load new unique Trollbeads daily!