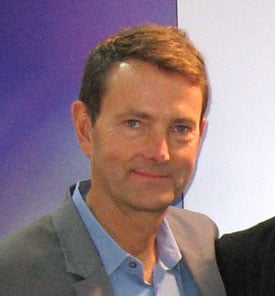 We have just heard Trollbeads Worldwide CEO Peter Aagaard will be at Trollbeads Fest! 2011 on Spetember 24th.
Everyone at Trollbeads Gallery and Rogers Gallery couldn't be more excited or more proud. Since the end of January and since creating Trollbeads-United States, Peter has worked tirelessly to bring together the best team he could and the success of his efforts is so apparent on all levels of the business. From retailer communications to national advertizing and now by hiring the new CEO of Trollbeads-United States, Michael J. Belleveau, Peter has created a steady vessel worthy of this brand we all love so much. Belleveau, a well-respected executive, headed Baccarat Inc. for 8 years before stepping down earlier this week. During his career, he has held positions in the Swiss watch and luxury tableware arenas, including sales and general management posts with Cartier, Victorinox/Swiss Army and Bulgari. I was lucky to have met him recently and my first impressions found him direct and warm. The future of Trollbeads in the United States is more secure than ever and the future plans,according to those in the know, will be tremendously exciting.
As you can imagine the last 8 months has been a whirlwind for Peter and for the whole Aagaard family visiting all the jewelry shows, U.S. retailers and between flying back and forth from Denmark. Now you can understand why for us it is so special to have Peter make it to Trollbeads Fest! 2011. Peter will be speaking during the event discussing the history of the family's involvement and some of the outstanding accomplishments of the the Aagaard Stewardship. They have created glass making centers in communities in need from India,South Africa and their work with displaced Tibetans has been monumental.
We started Trollbeads Fest last year and had an amazing event with people coming from all over the world...and 19 states! This year promises to be even better with glass bead demonstrations, visiting Trollbeads designers and hundreds of special beads. For more information visit TrollbeadsFest!2011.