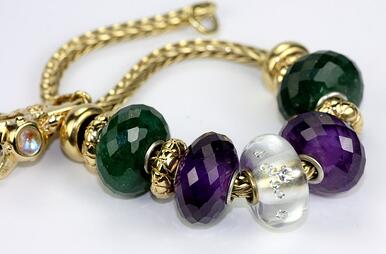 This will be a hard article to write. As a dealer of Trollbeads it is not my desire to offend anyone who feels differently on this subject than I do, so let me say we all have different ideas and "to each his/her own when it comes to this glorious passion we all share, Trollbeads".
One thing we all agree on is our love of Trollbeads. We adore the silver beads in all their amazing and sometimes amusing shapes, forms and meanings and we all love the amazing glass beads in their many colors and textures. We love to talk about them, share them, swap them, photograph them and create our own names for them. We love to build bracelet after bracelet. Sometimes I think we are all just reliving our "pop-it" beads memories from our childhoods but with grander style beads.
As much as they are a part of our everyday lives I have come to see that the levels of commitment are so complicated, they confound my comprehension of it. There is one underlying reality to each one of our relationships to our Trollbeads collections and that is our own conscious and unconscious rules of collecting. What am I trying to say without meaning to say one approach is any better than another, is that collectors all have a unique position when it comes to Trollbeads.
To simplify it there I think there are basically 3 kinds of collectors and you'll see this can apply to any other collections.
1. This group is made up of purists who know they are and can't imagine it any other way. It's close to being a quasi-spiritual thing.
2. There are Trollbeads collectors who consider themselves serious Trollbeads collectors but they have other beads on their bracelets.
3. Then there are collectors that love to collect beads no matter their origin or pedigree and mix it all up.
The strange thing is I understand the third group better than I understand the second. As I mentioned one is not better than the other but as a collector I have always collected for the purity of my collection and by purity I'm not talking about cleanliness! I have thought long and hard about this because I was wondering if I would feel the same if I was not a Trollbeads dealer but when I think about my other collections they have always been within the realms of what I consider "a collection that have a similar provenance and are of one theme". Please remember what I said earlier, it isn't right or wrong, it's just the way we are wired. As an example consider my sea glass collection. It's made up of the sea glass that only my husband and I have found. Whatever has been given to me I keep in a separate place and if I buy sea glass for making jewelry, that stays separate also. This is about the pride I take in my 30 year old collection. If I added pieces from other sources I couldn't feel it was as much a part of us as I now do. I would feel inauthentic. If I had sea glass from other people in my collection I wouldn't feel the same way towards my collection. The same goes for everything I have ever been passionate about.
Bringing this back to the variety of Trollbeads collectors, in my position I get to see many, many people collect Trollbeads and I enjoy every one of them. There is however a certain level or way we each relate to our collection and it is so fascinating for me to observe and think about but so difficult to explain. Some collectors, as absorbed by Trollbeads as they may be, will have artisans copy Trollbeads in order to get the bead design they want. I have never understood this but for these collectors it's all about attaining the beads they can't get otherwise. If they want a retired Trollbead and they can't find or afford it they'll have it made by an artisan. It seems so counter-productive because in the end what they get is not a Trollbead at all. One huge problem with this is the chance that these beads will be sold later and then someone will think they have a Trollbead when they don't so the dealer part of me doesn't think this is ethical and for the future of the brand I worry. It goes back to how we personally feel about our own level of collecting and if authenticity has a place. For some it doesn't matter and it's all the differences we all have that make Trollbeads such an interesting passion to share.
Louise Rogers
Just 4 more days until 7-1-11. World Tour Beads USA! We will have the whole set available by the bead or by the set! www.trollbeadsgallery.com