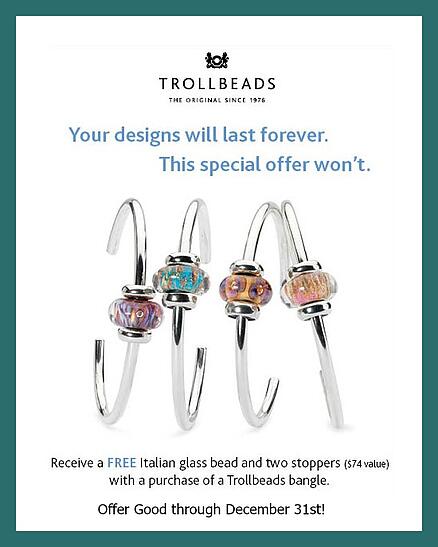 We have seen many great individual specials offered by Trollbeads this year and to finish off the year they have created a Bangle offer to save collectors $74.00!! It lasts until Decmber 31st. While I have emailed and posted it on Facebook and Twitter I have not posted it here on my blog. I blame this on it being December and I have 2 stores besides my Trollbeads website so I guess I just forgot! If this is the way you get your Trollbeads information please excuse my oversight!
When you purchase a Silver Trollbeads Bangle you will recieve a free Group 1 Glass bead (a valuie of $34.00) and two free Stoppers. The bead plus the Stoppers equal a combined savings of $74.00. If you haven't purchased a bangle yet you have to!! It is so easy to quickly change the beads with whatever you are wearing and go! I am always 3 steps behind (I blame this on being an older retailer) and when I want to wear my bangle I have a bunch of loose beads in a bowl on my bureau and just pull three to match what I am wearing! Tada! A busy person's dream come true. It's so much quicker than remaking a whole bracelet. So if you haven't tried one yet now is your chance!
A FREE Gift with Purchase!
As many of you know I create dangles to be used on a Trollbeads bracelet. They have a very small bale so they don't take up much room on a chain so I never felt it was in conflict with the Trollbeads brand. It actually started because our local Massachusetts collectors wanted something local to add to their chains as our town Mattapoisett is a waterfront summer community so I created sea glass dangles as I make jewelry from sea glass. This broadened and I expanded to make all sorts of dangles and with the demand I had I created a category on Trollbeads Gallery. As Trollbeads US is making an effort to strengthan its brand it was requested we remove the dangles from the site. I am in agreement with the decision so I have offered them as a free gift with a purchase -all in holiday themes. I did this last year and it was a great success and I am doing it now. So there is no longer a category listed on my site but we are offering them as a gift with purchase. Our supplies are getting down there but we are still offering them. When you purchase $150 of Trollbeads you can choose from the three I have made. The value of the dangles are $38.00. I am still making all my dangles but I have not yet decided where to post them so until them just contact me directly if you have a request!
On an interesting note as I was taking down the category on my website I researched what the most popular dangles were and they were the Bee Charm with yellow sea glass and the Dog Bone charm with blue sea glass! It was fun for me to discover that!! Of course the dangles with the dog breeds were popular too and that must be because Trollbeads only has the one dog bead!

We are looking forward to a very large and wonderful collection to come out with the Spring 2015 collection along with the new Valentine beads so stay tuned!!
Everyone at Trollbeads Gallery, Rogers Gallery and Surroundings wish you a Happy Holiday Season and a Healthy New Year!