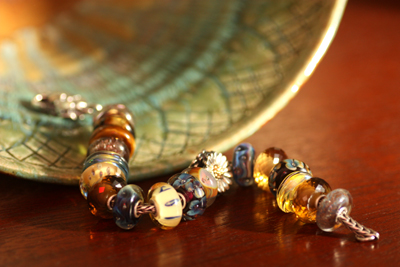 It has been a hectic week for all Trollbeads collectors and dealers alike! The price increase and the new Trollbeads has been full of highs and lows. We can all agree this is an amazing release of new beads. I can't wait to work with the beads and create bracelets using old beads along with the new.
On Trollbeads Gallery Forum our members are sharing their new beads and bracelet designs. There is one image with warm tones using the new Red Symmetry bead and the retired Tiger bead.New Beads!
The price increase has been a confusing issue for stores and websites and I have discovered that although the price change does not have to be completed until the 30th, we were asked by TrollbeadsUS to make the changes immediately. It was confusing to me as they mentioned the cahnges would go into effect on the 16th and should be completed by the 30th. I just read the 30th. In the past I believe we were given one date so there wasn't any confusion before. My apologies goes out to any Trollbeads website or Trollbeads dealers for not understanding the pricing
schedule (I still don't) but I will be attempting to get the prices changed this week.TrollbeadsGallery.com 's prices will be changing as soon as my webmaster reports in!
As some of you know I was in New York last week on business while all of this was taking place with no internet connection!! Knowing I was not in town, my web assistant loaded the new beads on the site but unfortunately downloaded them all from the Denmark site. This created confusion because the pricing is different and I want to apologize to anyone that was effected by this.
Regarding Unique Beads: As you know, when we have released new Unique beads at an assigned time there is a horde of people all trying to buy the same beads and because of the way the site works, it doesn't show as sold until the bead is paid for. This means one bead can sell at the same time to many people. To prevent this from happening we will be adding smaller groups of beads and not announcing it as a large release. I will also be adding by ones and twos so keep your eyes on the site! For my Forum members I will announce new beads "groups" by posting an image of a single unique bead as I did this week. New Unique beads.
Trollbeads Fest is gearing up and more and more plans are coming together. Please remember the event is limited to first come - first serve. I would hate any of my Forum friends to miss out. We will have many, many unique beads and I'm sure we'll have a few drag down fights over them so that will be fun to watch! (Smile) The collectibles in the gift bag alone makes it worth it! The dinner on Saturday night can only hold 150 and promises be a great event with fun awards along with a welcome to New Bedford from the Mayor! Register at http://trollbeadsfest.eventbrite.com . It's coming way tooooooooo fast!