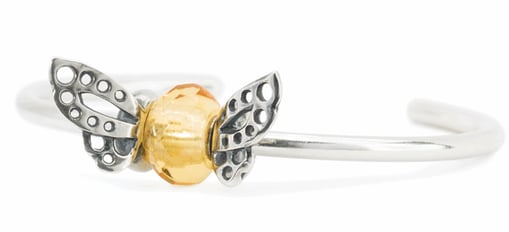 There are so many things to bring you up to date on a variety of sale events and new release events coming up with Trollbeads this Summer. Our exciting season began on Saturday when we all celebrated Trollbeads Day with the release of the beautifully organic Trollbeads Day Bead, the Golden Rutilated Quartz, a precious stone with Rutile inside. The Rutile within the bead are like golden needles and make each bead unique. Trollbeads Gallery is selling these beads in our "Trollbeads With A Twist" category so you can see the bead before you buy it! We have just received a new batch of them and we are listing them constantly! Don't miss out on this stunning and very limited bead. The beauty of stone beads is that each one is totally unique. Sometimes one is not enough!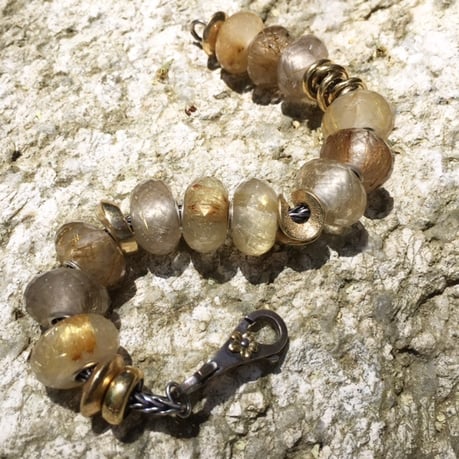 Our July 4th Unique Beads Category is now live! This is the 9th year we have listed these special uniques beads for your July 4th jewelry. Check them out quickly as they are going fast! It is a favorite time of year for me and for many of us who get to share time with our family and friends to celebrate July 4th and these beads will help you do just this! July 4th Unique Beads.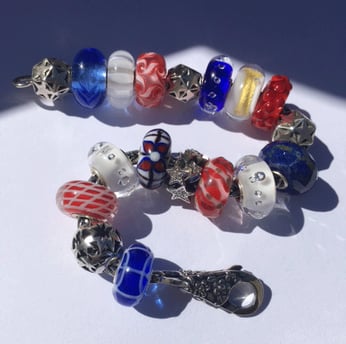 Today, June 23rd we have listed the Summer Trollbeads release, a small but mighty little release. It is all about the butterflies! Dancing Butterfly Spacers, Dancing Butterfly Studs and Butterfly Earring Components. Shipping will commence on June 30th. See photo above! The Dancing Butterfly Spacers will add a whole new lease on life to your favorite Trollbeads!
Sale Notice: June 28- July 5 We will be having a Summer Sale Event. There will be a total of about 30-35 beads which will be on sale for 25%. We will be adding all of them to the sale as the week goes on! A progressive bead sale, sort of! Along with this sale we will also be offering the very popular "Free Silver Bracelet Chain with the Purchase of an upgraded Clasp" event!
Sale Notice: On June 30-July 7 We will be having another favorite sale event! The Buy 3 Unique Beads & Get 1 Free! As usual we will be listing as many unique beads as we can so you will have a lot to choose from!
Announcing the "Bracelet Helper" has now reached the U.S.!
Beginning on July 1st you can receive one of these great wooden bracelet helpers with any order over $75.00.