As one of the leaders in spreading the Trollbeads news I have to admit I have been very lax in writing enough blogs. This is my first blog of 2017 and while understanding this I have to think why I can't get to it more often! Then I think of my days and the time I spend processing and listing unique beads has gradually grown through the years and as of today I must admit that probably 75% of my time is spent working on unique beads for my website. I'm definitely not complaining as I am thrilled the Trollbeads unique beads are so popular. Even when I go on vacation I shoot the photos before I go and leave the beads for Penni (our shipping manager) and gradually process and list them while I am away. My family thinks I need an intervention but I enjoy it so I do it! If you haven't recently seen my unique offerings and how often they change take a look now at: Trollbeads Gallery Unique Beads.
I'm sure if you are reading this blog you undoubtedly have seen the great new 2017 Spring Trollbeads Release "Kindred Spirits. The collection is online now on Trollbeads Gallery and is quite wonderful. Trollbeads original and premier silver bead designer, Søren Nielsen has created a majority of the new beads and I am one of his biggest fans. Check out Hourglass, Bumpy Ride, Rhythm Drum and Moonlight Dancing. They are all classic Trollbeads and classic Soren in design with outstanding details. On the other hand we all know Soren has another side to his design personality and this is supported by his Troll and Fairy designs in this collection. Each Fairy and Troll looks like they all just climbed out of an enchanted forest and it's this appeal that speaks to our inner child and what makes us love Trollbeads. Soren's designs are fresh yet stay in line with what Trollbeads has been and should be!
Another long time designer for Trollbeads, Mette Saabye, has created the new Water Lily Lock, the Water Lily Family, the Water Lily Spacer and the Single Water Lily Spacer. Mette is a very active and diverse artist in Copenhagen and her talent is in all mediums. One of her most popular beads is the Endless bead. It has been in the line for many years. I was fortunate to meet Mette when I was in Denmark and so enjoyed seeing her studio and gallery. Look at her exquisite Water Lily Spacer Bead below on the bangle. Designed as a Spacer it can sit on your bangle or Neck Bangle and not move and not need stoppers!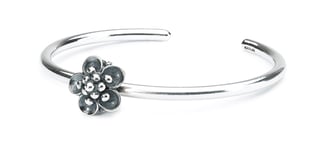 The new glass"Enchanted Days" kit will literally leave you enchanted for days! It is a great kit in its entirety! It is important to remember when you purchase any kit of 6 beads you receive 1 bead free!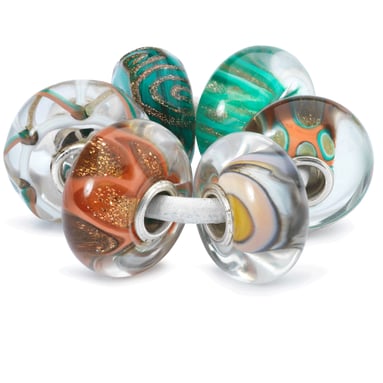 The glass kit was designs by a lovely trio of artists Tashi, Dhundup and Dolma. Tashi, Dhundup and Dolma are the designers of the 2014 Summer Limited edition glass beads. They have all created beautiful beads for the Trollbeads Collection since 2004. Originally from Tibet, but now living in Dhramsala , the home of their spiritual leader Dalai Lama. Many Tibetan artists have been given the chance to create beads and support themselves while living in Diaspora with the humanitarian efforts of Lise Aagaard. This is just one of the many reasons why I love the Trollbeads brand. Below are the 3 enchanted designers!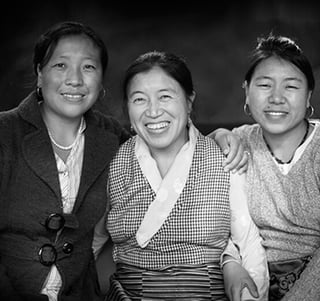 The glass bead "Prefect Moments" is a perfect mate to the bead I asked to have made for my Trollbeads Fest 2016. I have never seen a bead so successful! I am so pleased they have released this beautiful bead to accompany the Fest bead! It is the bead at the top of the blog!
There are two new Trollbeads rings in this collection too! The Venus Flower Ring (below left) designed by Søren Nielsen incorporates a Black Onyx stone and the Twisted Ring Of Change by Kim Buck. The ring in the center is what you will get and the ring on the right is a suggestion of how you can use your beads on the ring. It works exactly like the original Ring Of Change. You have so many rings as it is your imagination and your collection that can offer you a world of rings!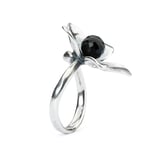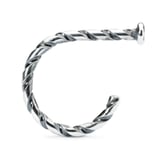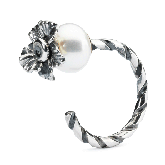 I would like to finish up this blog with a request for you to follow me on Instagram. If you don't have Instagram yet just download it on your phone! It is that simple. I always strive to add at least one or two new photos everyday and you never know when a great bead (one you've been wishing for) shows up! If it does just email me and ask for it! Just go to Instagram and search for Trollbeads Gallery and you can look at some of the great photos of Trollbeads I have added. :-) Thank you for your follow!