Now that the summer is winding down the time has come to talk about our very own "Trollbeads Fest! 2016" coming up on October 7 & 8th! Excitement is rising as our plans are falling into place!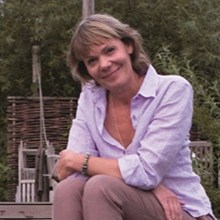 This Fest will be our 7th Annual Fest and we are incredibly excited about what we have to offer our attendees! For the first time ever we will be honored by the visit of Lise Aagaard, founder of Trollbeads. Lise will be with us on Saturday for a couple of very busy hours. It is very exciting for me to host her as we have had other family members but this will be her first time at our Fest. Lise will give a talk on Unique Beads, a part of the Trollbeads collection many of us love with a passion! If you haven't had the chance to hear her speak this will be very memorable for you as she is engaging and mesmerizing when discussing glass beads!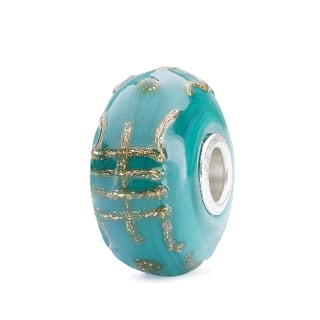 The second remarkable thing about this year is the Event Bead. In years past we have had some lovely Event beads for our Trollbeads Fest. One outstanding bead was the Fest Armadillo we had a few years back. (See image below.) Another was the Sea Blue Agate bead which was also very special. This year's Event Bead will top them all. It all began in late spring when the Global CEO came to Mattapoisett to discuss my needs as a dealer and to offer me support. For him to come to me was an honor and during our discussion we touched on some of the recent frustrations the dealers in the U.S. have felt with U.S. Trollbeads office. The head of the U.S. office had her energies on building their retail business and not on so much on supporting the retailers. I am happy to say that this is all changing in a positive way. This year marks my 10th year as a Trollbeads dealer and Trollbeads has always understood the effort I have put into the Trollbeads brand and they wanted me to know they would do all they could to support my efforts going forward. I asked if I presented a bead design would they be willing to produce it for Trollbeads Fest. I also wanted to offer my Trollbeads Gallery Forum members the chance to purchase an event bead as a benefit of being a member. He was very positive and asked me to come up with an idea and he would discuss it with the office. I sent my idea and it was accepted. I am so grateful for the chance to offer this bead. Since the bead has had its unveiling it is my understanding that it has created quite an uproar around the world for varied reasons. One important reason is that there are many collectors around the world that can't come to our event and are upset to miss out on this bead and I understand that. I will do all I can to help collectors that can't make it to the Fest to have one for their collection, while supplies last. To keep up with the availability and communications on the bead please join our Trollbeads Gallery Forum!
The Event!
When:
Friday October 7th, 9:30 – 5:00. Wine and Cheese reception 4:30-7:00.
Saturday October 8th, 9:30 – 5:00. Lise Aagaard to be here from 1:30-3:30 to talk and for your photo opportunitues with the founder of Trollbeads!
Where: At Rogers Gallery, Route 6, Mattapoisett, MA 02739 (Just an hour south of Boston, 45 minutes east of Providence and 30 minutes from Cape Cod !)
RSVP: Please let us know if you are coming. You do not need a ticket but we will be offering lunch each day and need numbers! We will also have gifts for you so knowing who will be coming is important!
When we started our Trollbeads Fest it was the FIRST of its kind of event and we held it in an Event Hall in New Bedford. For 4 years we continued this tradition but we needed to charge for tickets and the lack of intimacy just didn't feel right. It was becoming too large. The first year we held it in our gallery was lovely and decided while it wasn't a major event, we preferred it as did our attendees!
If you haven't been to the Southcoast of Massachusetts you are missing and beautiful slice of America. From its beautiful harbors and great seafood to its many historical sites it is a trip worth making. Plus it will be Fall Foliage time in New England!
We will be offering you a large array of unique beads, both traditional and Jumbo, many wonderful amber beads, custom Gold Beads you won't see in the line, retired Trollbeads and other hard to find beads!
Did I mention the specials we are offering???
Buy 3 beads get 1 free.
Receive a free $46 chain with the purchase of an upgraded clasp!
Receive 2 free Silver Stoppers with a purchase of a silver or gold Bangle Bracelet.
Gail Crossman Moore will be exhibiting her glass making skills once again!
To read about Trollbeads Fest! 2016, click on this link to the Event Page on Trollbeads Gallery.
To join Trollbeads Gallery Forum, click on this link! You will enjoy all the inspiration!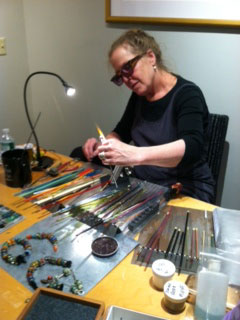 Trollbeads Fest Armadillo From 2011! This beautiful bead was created by Isabel Aagaard at an event and my wish was granted for it to be our first Event bead!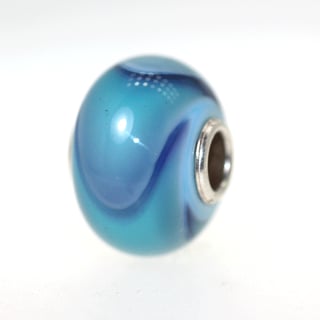 Below is a fond memory I share with my son Alex at an event with the Aagaards a number of years ago. I am the height challenged one and my son is next to me. It will be so nice to see Lise again.