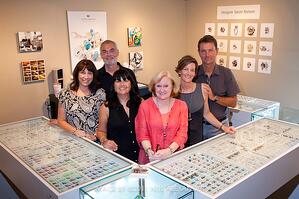 It seems incredible but it has been a full year since Trollbeads Denmark took over the reigns as distributor for the United States. On January 25th 2011 Trollbeads CEO Peter Aagaard announced through an email to the U.S. retailers, they had set up operations in Princeton, NJ and were ready to start shipping. There were definitely some bumps in the road before it became a reality but the majority of the Aagaard's family had been here in the states all committed to making the transition as smooth as possible. They all had been busy working day and night setting up the new hub of distribution and this was just the start of a major shift of how Trollbeads would be seen by the U.S. It wouldn't long before Trollbeads would be appreciated as a major mover and shaker in the jewelry retail industry. The newly formed company's fine tuned professionalism began to shape TrollbeadsUS as we knew it into the new Trollbeads-United States as it now is. The prior distributor had under invested in marketing, national advertising and the activity at events on the national stage had been rare. But now that has all changed and with millions of dollars invested in advertising, participating in social marketing and by participating in major jewelry industry and fashion events the new Trollbeads-United States has positioned itself to continue to rise and be acknowledged as a major player in the collectible bead industry. After all Trollbeads was the original player 35 years ago.
Besides creating strong advertising campaigns the changes included many store visits from the Trollbeads core people including the family and the designers. They created a glass bead making demonstration event that many stores have hosted and will continue to do so. Just as Denmark was needing Peter and company to return home, the new CEO of Trollbeads-United States was announced. In mid September Michael Belleveau took over the helm from Peter Aagaard and with a smooth passing of the reigns Peter headed home with the U.S. distributorship in Michael's capable hands poised to continue to grow the brand while staying true to the Trollbeads business Mantra.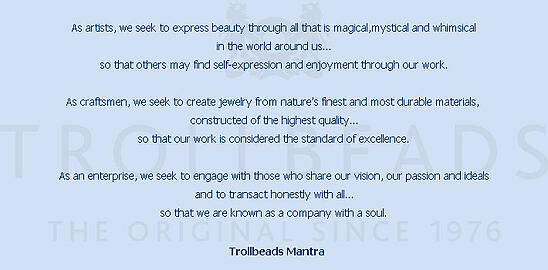 With the brilliant new Trollbeads introductions we have seen so far in January I feel assured 2012 is going to be a record breaker and I'm looking forward to continuing to enjoy the ride and I hope you are too!
Louise Rogers
The photo above was taken in the gallery when we had Soren Nielsen exhibit his wax designing methods and a visit from Peter Aagaard. I started the day by showing our Danish guests around Mattapoisett with a ride to the lighthouse and ended the day by enjoying a dinner next door at the local diner! From left to right Carole, Soren, Kimmie,Louise, Penni and Peter.