Everyone here at Trollbeads Gallery and Rogers Gallery has been very busy preparing for a very busy Autumn. From the new Autumn Trollbeads "Spirit of Life" Collection, the release of the 2016 People's Bead "Celebrate Life" to the many faceted plans of Trollbeads Fest! 2016 on Oct 7 & 8...it has been non- stop action!
The new "Spirit of Life" Collection release has given us surprises and beauty in its beads. I am happy to say that the beads have been selling well across the collection. In the silver beads it is no surprise that the Mexican Sugar Skull has been the best seller seconded by Vision of Light that has such fine beads of silver on the edge. I also like the price at $31.00. Chihuahua is a cute bead for those who love small dogs!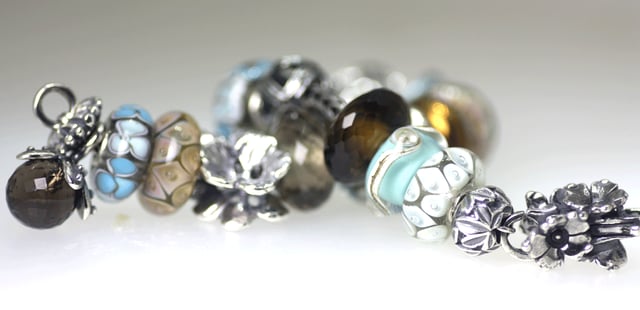 The new glass beads from the Collection have been well received across the board with a definite popularity on the three Nature Beads with the design that hearkens back to the old Python design. The "Soul of Flowers" has been more popular than I thought it would be and it seems to go in multiples. I have added a few of the glass beads to "Trollbeads With A Twist" so you can see each individual bead before you buy it!
The two new stone beads are great additions to what is now a large family of faceted stones Trollbeads has. The Calcite Rock has a very earthy look to it with brown being the predominant color with greens and golds and like most of the stone beads each one is very unique. The second stone bead is the "Feldspar Azurite Rock" bead which has two colors, a deep aqua and Grey. The difference in each bead is how the colors are balanced. Once again we have added these two stone beads to the"Trollbeads With A Twist"category.
The newCaroline Jessamine Lock is a very sculptural lock and if you love flowers this lock is for you! All four sides has a flower which means there isn't a dull side. It's easy to use as you just hold on the flowers and work it from there!
There are two new Tassel beads where each stone ball is faceted. One is shown above. One is a Citrine Facet Tasseland a Smoky Quartz Tassel. I don't have a favorite yet but we have sold more of the Smoky Quartz and that may be more to do with the price difference than the actual visual preference.
In my estimation the BEST new products are the Twisted Bangles. What a beautiful design and now with all the added Spacers and colors of Stoppers the designs are endless! Below I have used the GREAT Lotus Top beads with the classic silver Stoppers.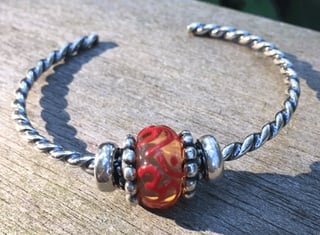 Trollbeads Fest! 2016 Updates!
We are so excited each time a box comes from Trollbeads!! We are getting in such great goodies and it is getting more exciting as time draws near!
As many collectors have already contacted me, it may not be news to you that the event bead we were able to have designed and created has been a smashing success! So much so we now have to set some purchasing guidelines for both purchasing at the Event and from our Wish List. It is shown below.
It was brought to my attention from two different on line groups that collectors were planning on hiring shoppers to come in and buy them the Fest beads. They were offering to get them and pass them along for a higher amount to cover the cost of the shoppers. We also know that there are people who want these beads primarily to sell on a secondary marker. This is not what Event Beads were created for and I have to stand my ground with this issue. I have too many collectors who want this bead for their collection to knowingly sell it to someone hired to buy it for them.
Event beads are created to celebrate the event and be a great memory of all the friendships formed through Trollbeads and through events like our Fest.
I have made it clear that for those of you who cannot attend the Fest and want a bead I will put your name on a wish list. The list is long and if people are planning to send people to the Fest just to buy the event bead for resale then I won't be able to fulfill all the requests. Unfortunately the following rules have been put into place:
1. We are limiting each attendee to 2 Fest Beads.
2. They can be purchased only when purchased with other beads.
3. They will also not be a part of the Buy 3 Get 1 Free special.
If you want more information on Trollbeads Fest! 2016please click on this link for information. It is actually on the top navigation bar on Trollbeads Gallery.
On this page we have the specials listed and the hours of the event. We are so thrilled to have Lise Aagaard, the founder of Trollbeads attend for the first time! She will be giving a talk on Unique Trollbeads.

NEXT...Our Special Halloween Unique Bead Listings will be released on October 1st!
Be sure not to miss it!