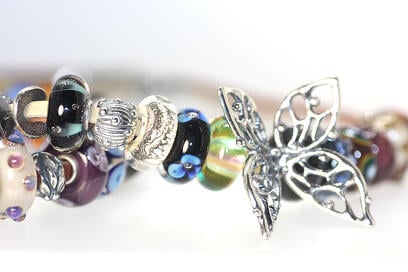 The New 2013 Spring Trollbeads
I have been very remiss in not writing a blog about the most outstanding Trollbeads release ever! January is a busy time for retailers from the various trade shows and add the many Trollbeads releases from unique hearts to pendants, beads, the exciting new leather bracelets I've had no extra time to share my thoughts and information on the new release! That's one reason for not writing but the other reason is that I am overwhelmed by the entire group of new items and I know it will take a long time to go through each of them and give them all the consideration due.
So for now let's just say they are phenomenal. Look above at Soren's new "Big Butterfly"! This pendant has the ability to move from leather bracelet to leather necklace to silver chain and to the bangle bracelet with such ease I can't decide where I enjoy it the best. There is no other pendant that is as versatile at this one and none as large and the size is important when it comes to creating statement pieces and anyone who collects Trollbeads loves to make a statement! If you look closely above you'll see the new Yellow Leather Bracelet. The new Rocky Beach Kit has out sold all Group 1 kits ever released for Trollbeads Gallery in so short a time that is remarkable. All the beads in this kit are stunning and they all work so well together that buying it in kit form makes perfect sense...especially if you save $31.00 because you always get a free bead if you buy the Group 1 glass beads in a kit. The beauty of the Rocky Beach Kit is that the beads all vary widely from one kit to another or one style bead will be different from a bead in the same style.
The second Glass 1 Kit of beads is the Happy Summer Kit. I can see these beads being hot as August sand come summer! We've used the beads in the bracelet below...just look at how happy the bracelet is below! I love it!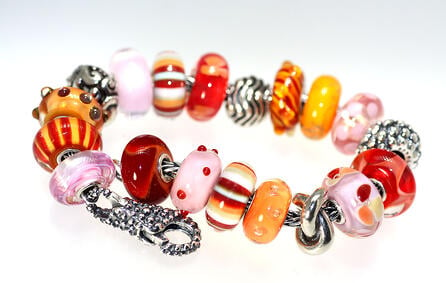 I will continue my thoughts on the new 2013 Spring Trollbeads in my next blog but look below to see the 2 new Valentine Love drop beads. I adore the silver heart on top of each drop! Click on these links to see! Valentine Love, Red and Valentine Love,Purple.

Valentine's Trollbeads Category New For Trollbeads Gallery!
I am so fond of Valentine's Day that I have a whole new category for it and with the many heart themed beads, appropriate color glass beads and of course all the many brand new Heart Unique beads. It's been a very busy category! So check it out even if it's just to get you in the mood! We have our Valentine Trunk Show coming up this next weekend on February 7,8 and 9 so you can take advantage of the specials and get some of the Valentine beads and some of the new Spring beads.
Trollbeads Gallery Valentine Trunk Show!
February 7,8,9 2013
Purchase 3 Trollbeads and receive the 4th bead free! The free bead has to be equal to or less than the lowest price bead in your group of 3!
To order your Trunk Show order:
1.Place it on line and in the "notes" section write what you would like for your free bead(s)! So easy!
2.Call our Toll Free Number on the 7th, 8th or 9th.
Gifts With Purchase!
Gifts With Purchase!
If you spend:
$100
Trollbeads Polishing cloth and a TBG Trollbeads Bumper sticker!
$250 Choose one from:
A Trollbeads Memory Book (No longer available through Trollbeads!) OR
A Klimt Porcelain Trinket Box (With Trollbeads Logo on bottom) (below)
A Trollbeads Candle
$500 Choose one from:
A Trollbeads Coffee Table Book or
A Trollbeads 3 Tiered Black Tray (New!) Below but with 3 trays!
A Trollbeads Jewelry Box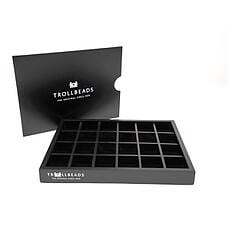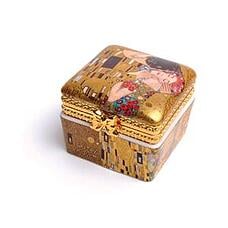 Prices Lowered on Our Gold and Silver/Gold Trollbeads!
Other advantageous Trunk Show Specials we offered at past trunk shows are now everyday specials! All of our 18K Gold and 18K Gold/Silver beads have adjusted discounted prices on our website. Please click on the links to see the specials! It's our hope and Trollbeads hope that in a market with gold prices being as high as they are these adjusted prices will help our collectors in affording these outrageously beautiful beads. A little bit of gold goes a long way on a Trollbeads bracelet!
Thank you so much for reading and please leave a comment! Your comments show up after a bit so don't worry of it doesn't show immediately!!