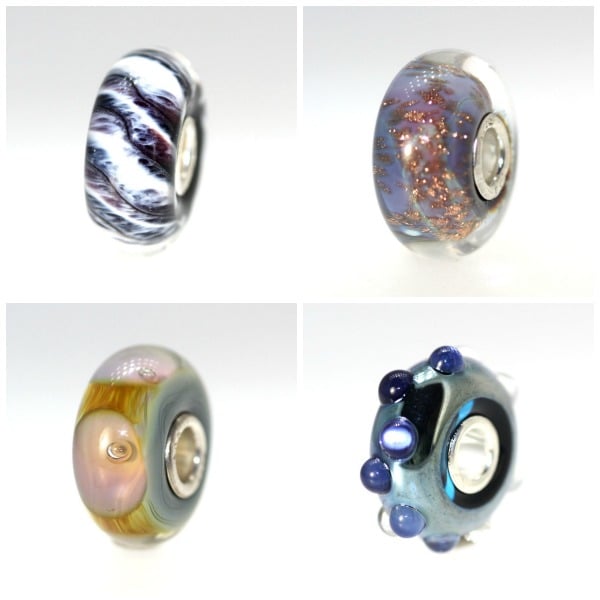 Trollbeads with a Twist is a category we have had on Trollbeads Gallery for about 2 years. It's a sleeper of a category but when someone discovers it they become "twist" fan and will continue to check in to see if I've added something new. The listings are not plentiful but I try to always offer you beads to choose from! What is Trollbeads with a Twist?
Trollbeads with a Twist is just as it sounds. Here you will find standard glass beads and stone beads from the Trollbeads line that are in some way unique from the bead as it is usually offered. This is due to the fact that every Trollbead is made by hand and there is bound to be differences. With working with customers purchasing Trollbeads in my gallery I discovered that there are those collectors who love to seek out the unusual beads. We all search for that special something that speaks to us whether it's a color or a theme but when you're hunting for beads that are somewhat "off" from what they are meant to be the discovery is all that much more rewarding. With this in mind I was wondering how I could offer this experience for people who don't have local Trollbeads retailers. There are many collectors who only have the opportunity to buy Trollbeads on line and that is when "Trollbeads With a Twist" came in to being. Through the years I have had some great offerings in this category and I am sure to have many more. I also include retired Trollbeads but many times this is merely so my customers can actually see the retired bead before they purchase it.
If you are wondering why I don't offer more beads in this category it is because there are only some beads that come in with a unique look or that vary at all in their appearance. Think about your collection of standard glass beads, not including your unique beads, and think about the beads you love the most and I'll bet they are the beads that vary from bead to bead. Don't get me wrong as there are many stunning beads that don't vary but for me it's the ones that do I feel closer to. It's the thrill of finding the perfect bead. Some of our all time favorites are Azure Bubbles, Blue Desert, Organic Bubbles, Wildcat and of course the Armadillos. The numbers next to each of the Twist listings refer to the number of beads I have listed here and when Azure Bubbles got up to the 80's I started over again! Blue Desert is always a fun one because there are so many features that can be unique to it. Sometimes it is green, sometimes pinkish red with the blue. The level of the "glitter" within the Desert beads is good to check for also. The Wildcat is now retired but in its day I had versions that included ones with a heavy presence of black, some with more green, some with more blue and some with more of a brown presence. The Feather beads are also great beads to keep your eye on! The Red Feather and the Blue Green feather are retired but I still list them as I made sure I had plenty in stock when they were retired. The "feathers" in each bead can come out in so many style from a calm "combed" look to a crazy "teased" look.
Another very important distinction between beads is the size. Some beads can come in a whole range from tiny to huge and collectors tend to hunt out their preferred size when given the choice.
Below is a list of Trollbeads that make great twist beads that are currently in the line!
1. Azure Bubbles-the queen of Twist Beads! Some collectors have made bracelets of just this bead!
2. Blue Desert-so many great versions.
3. Organic Bubbles-varieties are not as plentiful as they are in the Azure Bubbles but still can be found.
4. Florence and Milan-always fun beads to check out for the varying bumps and tones.
5. Fireflies – once you start looking at this bead you will see how the wings change.
6. Milky way - a nice variety of silver particles in each bead.
7. Silver Mountain and Golden Cave-always varies in so many great ways.
8. Chakra Colors and any of the Chakra beads as the gold banding can vary.
9. Cozy –love the variety of black lines within the bead.
10. Whitecap-This bead is a great twist bead! Although a blue and green bead it can also have pink!
11. Moon Ocean-some can have a coating of mirror glass and can be light blue or dark blue.
12. Faceted Stones as these are natural and differ from stone to stone. My favorite one is the Golden Quartz because there is a wide variety from dark to very light!
Great Twist Retired Trollbeads
Wildcat - A wide variety of tones
Grey Wolf - Came in wide variety from wild and wooly to thin calm lines.
Orange and Green Armadillo - So many tones!
Clear Brown Braid- So many unique types of braids.
Clear Blue Braid- Again this bead seems to have a variety of braids.
Issy - The orange whisps of glass varied in depth and in tone.
Twisted Bud - So many kinds of twists!
Fur Animal- Again with fine details they can vary.
Red Feather and Blue Green Feather - our personal favorite.
Aventurine - as this was another stone bead that came in a variety of colors from very dark green with sparkly inclusions to a very light green.
If you check my Trollbeads with a Twist and see a bead you love sold just remember I am always adding new beads so keep checking back!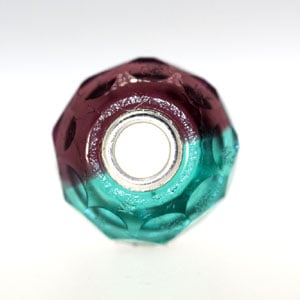 Here is a perfect example of a "Twist Trollbead" yes. this is a Turquoise Prism! Usually the bead has a soft flow of purple going through the bead but this one the purple ended up on one half and the turquoise is on the other!