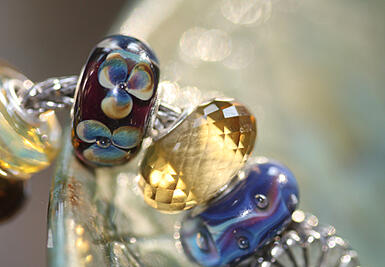 Trollbeads has recently introduced a new group of Glass, Silver and natural Stone Trollbeads. This new introduction, is referred to as the new "Autumn 2010 Release Trollbeads". The new beads were delivered to its top tier retailers, consisting of Platinum, Gold Plus and Gold Premier dealers across the United States. The Troll collectors responses have been overwhelming and these dealers are already running low. Each of the top tiered dealers are allowed 25 of each new design to start with and through a few discussions with other Troll retailers I have found the "Golden Quartz" Precious Stone bead and the "Blue Azure" Glass Trollbead are the hottest new beads of the bunch.
From my standpoint I favor the Golden Quartz. It is a new addition to the Trollbeads Precious Stone collection and like the other stones in this category it has qualities and features only a natural stone can have. From a design perspective it is valuable addition because there are multiple tones of gold with this single bead and this makes is so usable. In our first shipment of the Autumn Release 2010 Trollbeads we received Golden Quartz in very light gold tines (imagine a light Corona beer) to a very dark gold (imagine a hearty dark ale) and all the tones in between. Then imagine what you can do with these Trollbeads! Trollbeads has only about one or two major new bead releases each year and with each new release that come in my first reaction is to see how the new beads can be used by a collector to utilize the older beads. With each new release there are new and fascinating combinations to be made. The new "Golden Quartz" will work very well with all of the Amber Trollbeads and especially well with the retired Trollbeads, the Tiger and Tortoiseshell Glass beads. The Golden Quartz is so neutral yet so warm, I am sure it will be one of the great transitional Trollbeads. It is also the first of the faceted Precious Stone Trollbeads to have its facets reflect and shimmer, like a bright yellow diamond.
The qualities of the Golden Quartz are as intriguing as any of the Troll natural precious stone beads. The historical legends of all precious stones make them a perfect material to be used in Trollbeads and the Golden Quartz bead is no different. So much of Trollbeads is about myths and legends. "Golden Quartz" is known primarily as a stone of success therefore if you are looking to create or grow a business if you wear this stone it will help increase your productivity and creativity. The "Golden Quartz" is a great stabilizer in stressful times and it helps ward off laziness and depression.
You can see in the photo below I have mixed new Trollbeads with old Trollbeads and what a great combination they have made. Besides the new Trollbeads I have used the "Deep Bubbles" (make sure to find one with light blue bubbles) and "Khaki Stripe", (again make sure you find a "Khaki Sripe" with light blue instead in the stripe instead of Khaki. The blues I have found look great with the new "Light Blue Shadows. There is always a variety of tones in with each Trollbead so you can find the ones that look best. We can help you with that is you would like!