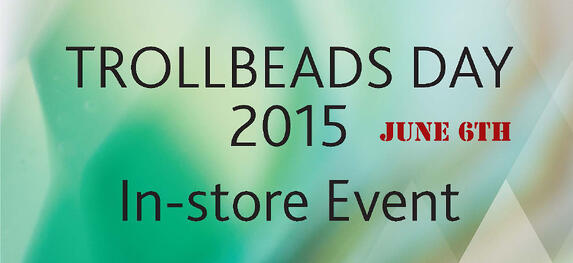 The excitement is rising as Trollbeads Day 2015 gets closer! This is the second year that Trollbeads has been celebrating Trollbeads Day and we hope all of you can visit a Trollbeads store and join in the celebration! Below is a quote from Trollbeads:
"To commemorate their passion and engagement, we dedicate Trollbeads Day on June 6th in gratitude to them. On this day we invite our fans to a celebration in store - revealing our special Trollbeads Day 2015 bead, launching our limited edition 'Sun Beam Kit' as well as having an extraordinary shopping experience with competition and local activities."
Trollbeads dealers will be debuting the 2015 Trollbeads Day official bead and I am so excited to be sharing this bead with all my collectors. Last year they debuted a silver bead and while it clearly defined the Troll like designs that brought Trollbeads to an artistic level during it's almost 4 decades of bead creations... it wasn't the average OMG Trollbead. This year's celebratory bead will make even the toughest to please...ecstatic!
The day of celebration is to be shared by Trollbead collectors and enthusiasts the world over and our store in Mattapoisett, Massachusetts will be offering our own celebration this coming Saturday. Everyone who purchases a 2015 Trollbeads Day Bead will have their name entered into a drawing to be pulled at 4:00 PM, the day of the event and the drawing is for one of the fun new Trollbeads Jewelry Boxes shown below. It has 3 levels of the same configuration and is quite special! (I must clarify that it comes without the beads shown in the photo!)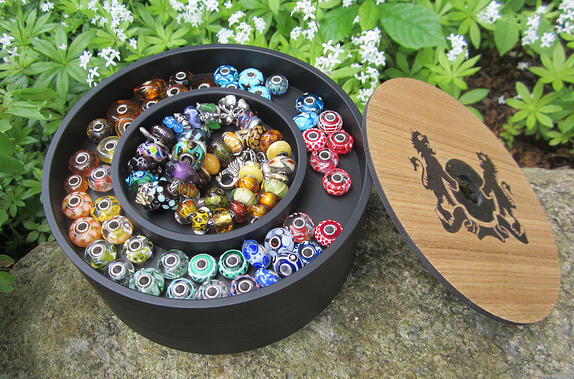 The company's founder, bead designer and CEO Lise Aagaard designed the bead and the following quote is from Trollbeads referring to this year's design.
"Let your spirit feel the break of dawn. Seek a moment of harmony and find inner peace. The forest quietly comes to life and the soft light breaks in the tree tops. The rays find their way to the forest floor which is slowly getting warmer. Life begins to trickle. Now it is dawn in the forest where all the trolls live. Trollbeads Day 2015 is a faceted glass bead with an engraving of the year. The bead is designed by the founder of Trollbeads, Lise Aagaard."
The bead will only be available through Trollbeads stores until after June 6th. After June 6th you will be able to purchase the bead on-line at Trollbeads Gallery. At this point in time we do not have information on the quantity of Trollbeads Day Jewelry Boxes. Dealers were supplied the boxes when they purchased so many Trollbeads Day beads so no dealer has a large quantity at this point. It is my hope that more will be available to purchase at a later date but as with the Trollbeads Day candlesticks of last year, more were never available.
While you are busy celebrating the day make sure you check out all the new releases of 2015! There is a remarkable selection of beads to look through and to purchase! Never before have we seen such great new releases from the Spring Collection, the Mother's day beads (which have sold out in the U.S. twice and had to be reordered), the new Easter beads, the Good Luck Starter Bracelet, the new Copper Collection (another total sell out but now back in stock!), the new single leather bracelets, the City Beads Collection (which has also had sell outs!), the NEW Sunbeam Stone kits (above) and now the 2015 Trollbeads Day Bead! You have to admit with only 5 months of 2015 behind us it really has been a remarkable year and you have to congratulate yourself on collecting the most artistic bead brand available.
If you don't live any where near a Trollbeads Dealer spend a little part of June 6th celebrating on-line at Trollbeads Gallery! If you do we will honor your purchases by giving you one of the beautiful purple satin Trollbeads Travel Pouch! After retail hours we will be listing the 2015 Trollbeads Day Trollbead on Trollbeads Gallery. So if you can't join us at Rogers Gallery and if you don't have a local dealer celebrate by treating yourself to beads and party on! We have a limited quantity of the Purple Pouches but hope to make you all happy!!