As discussed in my last blog the brand new Starter Bracelet "Good Luck" will start shipping March 6th and it proves to be a very popular item! We started offering them on Trollbeads Gallery on February 17th and the sales have been overwhelming! With "Starter Bracelets" Trollbeads likes to offer a complete kit with chain, lock and both a silver bead and a glass bead at an enticing entry level price of $119.00. I think we all know many Trollbeads collectors love Ladybugs (judging from the demand of unique Ladybug beads!!) and one side of the "Good Luck" lock boasts a Ladybug! With a starter bracelet the direction it takes is totally up to you!
If you are a new collector (and we have noticed there are lot of newbies lately) you may be thinking "But I already have a chain and lock." Well I am here to tell you that almost all the collectors I know NEVER stop at one bracelet and having a chain waiting to be filled is like having a box of chocolates waiting to be eaten!! On our very popular forum for collectors, Trollbeads Gallery Forum, many people have upwards of 10 bracelets and climbing so you know they have all taken advantage of the bracelet specials! Speaking of bracelet specials...there is a "Bracelet Special Event" coming up soon!!
On March 12-19 you can receive a free chain (a $46 value) when you purchase a lock of $56 or higher. This is a favorite event of many collectors so get ready to indulge yourself!! See information below!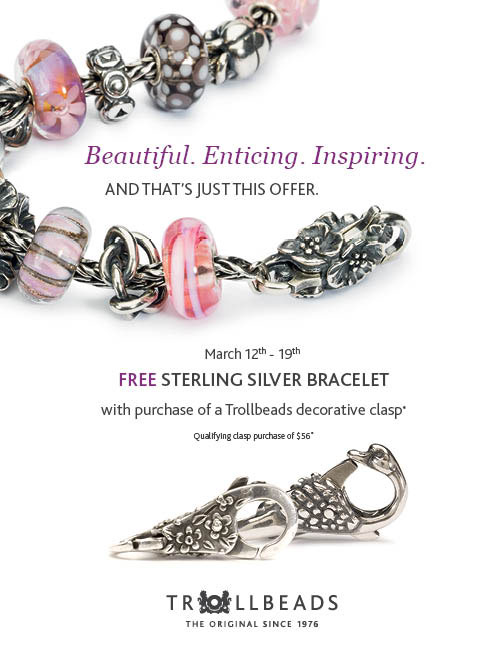 Another March release that we are already enjoying is the "Party Time" bead. The bead was created to honor Italy and was originally called "Festeggiamo" but in the U.S. it is the Party Time bead. As you can see from our necklace design below it goes so well with many of the glass Trollbeads. It had a harlequin design in blue and the other tones are soft pastel colors with minimal glitter. Created as a limited edition is retails for $34.00.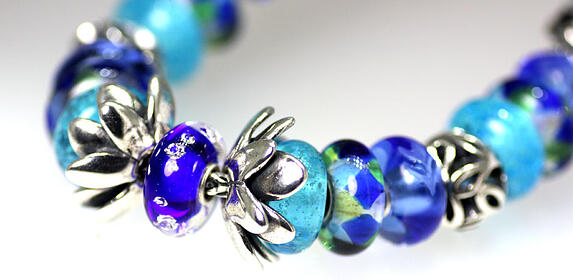 Another small introduction!! The Trollbeads Easter Release comes on March 20th!!! An Easter Collection that is traditional and mystical all at the same time! There is a fun new Dragon Lock, a new Tassel bead, an Easter Dragon bead and a Dragon Egg bead! When it is closer to release I will write another blog with more details! It's always fun to see the world through the imagination of Trollbeads.

Trollbeads next big special to start thinking about comes in April. Many collectors look forward to this event and it is a great chance to catch up on new releases. From April 10-16 you can purchase 3 beads and get a 4th free! Make your list and get ready!!
PS: News on the "Mother's Day Rose"! We have sold out twice now and TrollbeadsUS was out and had to re-order also but fear not we have them back in stock!! I am intriqued as many people who purchased one have come back to buy more! It is a remarkable bead with deep red by the core and pink petals showing incredible visual depth. I think it is one of those glass Trollbeads you have to see and hold before you realize its beauty.
Happy Trolling for now!!