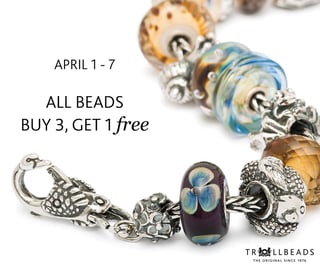 Yes! Trollbeads collectors everywhere are anxiously waiting for the most popular sale Trollbeads has. We are excited about it too and we have been and still will be adding unique beads to our website everyday during the sale. If you are new to Trollbeads and new to Trollbeads sales let me tell you what it is all about and what Trollbeads Gallery can offer you for this sale!
The Buy 3 Get 1 Free is just that! You can purchase any group of 3 beads and receive a 4th bead free of equal value or of less value. The BEST part is that there is no limit to the quantity of beads you can purchase. To make this sale work best for you group your beads in groups of 4 and keep them to the same value. To clarify this let me give you a couple of examples.
If you plan on purchasing three faceted stone beads at $63.00 you qualify for a fourth bead free but to make this sale work best for you choose another $63.00 bead. You can choose any bead at that price or lower but if you want your fourth bead to be a $31.00 bead, you can but you don't get the best bang for your buck!
If you purchase an Amber Kit at $235.00 that is actually considered 6 beads at $39.00 each so you will qualify for one extra bead with a value of $39.00 or less. If you chose to purchase additional beads you obviously can and will quality for more free beads. If you purchase any of our Amber trios it quite simply will qualify you for a fourth bead free. Unique Amber Kits. Trollbeads Amber is a remarkable product from Trollbeads. Unique Amber Trollbeads are created from 55 million year old amber. If you look at the lighter amber beads you can actually see 55 million year old debris! How cool is that? Besides it is all beautiful! If you are starting your Trollbeads Amber collection just know that a wide variety of bead size, shape and color will make the most interesting amber jewelry.

Trollbeads Gallery has two categories of beads that are individual beads listed by the actual bead. Our category of Unique Beads and our Trollbeads With A Twist. With A Twist. If the fourth bead you chose to be free comes from either of these two categories it would be best if you purchase it at the time of your order to make sure you get it and then we will credit you back the money for the bead. Unique Beads move fast during a sale and we don't want you to lose it if not purchased.
If you are new to Trollbeads Gallery let me tell you about "Trollbeads With A Twist With A Twist". This is the category where we photograph and list each and every glass and stone Trollbeads so as a website customer you can see the actual bead you will be getting if you order it. We have chosen beads that tend to change from bead to bead. We recognized the difficulty of choosing a bead without seeing it first and we are the only website offering this service. Each of these beads has a number and that is the one you will get if you purchase it. If you check the page and see a bead is out of stock, check back as I try to keep them in stock!
Back to Basics! If you are purchasing regular Trollbeads (as in not unique and twist) you only have to purchase your 3 beads and write in the notes section, at time of check out, your free bead selection.
There are many great new beads to add to your collection at this time! The 2016 Spring Collection has great silver beads and glass beads. The 2016 Mother's Day Collection has also given us both a beautiful new silver bead and faceted bead. This is a perfect time to update your Trollbeads collection! The beads shown below can be found in both new collections!

It is important to note on Trollbeads Gallery and that is we are all about service. For 10 years we have been known as the most trusted source for Trollbeads in the U.S. Please call us if you have any questions or would rather give us your order over the phone. If you are worried about placing an order on line please know we have the best and most secure website available.
Beads above: Lover's Faith, Violet Stripe, Apple Blossom, Wise Bamboo, Soft Winds of Change.
We can be reached toll-free at 888-758-3641.
Happy Spring and Happy Sale!!
Louise Rogers