Many of you have already discovered the new Trollbeads Gallery and for those of you who have not yet, let me tell you about it. The changes are all about making your experience buying Trollbeads as pleasant as owning them! I love it and I hope you do also. I have spent months building it along with Peter, my trustworthy adviser, thank you Peter!

I have added hundreds of Unique beads of all kinds including Glass,
Amber, Picasso Jasper, Pink/Turquoise Agates and Trollstones. My favorite new feature is the magnifying ability. For some it is difficult to see a Unique bead on a website and choosing beads on line has been challenging. Now when you move your cursor over the bead it becomes magnified to the point of seeing much more of the bead than you would if you held it your hand!
Another feature which gives a special view of Uniques, is the ability to show you more than one photograph of each bead. To see this feature at its best look at the Unique Amber Sets. The details of each 50 million year old particle entrapped in the amber beads become visible!
You can now track your order and its progress from looking up your account. It will update at each of its step from initial order to its shipment. We also send emails along the way but the ability to follow its progress is giving you more control.

We are now ipad, iphone and mobile device friendly! From the great comments we're getting I know this has been a strong benefit to many of you. I love that you can check out new beads while riding the bus to work!

The Wish List is a favorite and the site gives you the
chance to decide whether you want your list open to the public so someone (hint,hint) can view the list! How great is that?
You will now find all of our Retired Trollbeads listed on this site nowin their own category. I decided to combine both sites and maintain one site for many reasons but the main one being you can now check out just once! We work very hard to offer you the most comprehensive retired Trollbead collection in the world and plan to continue to do so! We have some very special and very rare retired Trollbeads and where the rare beads don't last long check the category as often as you can.

The "Compare" feature is also new for our site. A "Compare" button is available with each bead and you can click on it to compare your selections before you buy or just compare beads for the sport of it!


As always we will always be adding new Unique beads and new Retired beads and you can track this very easily by checking our Home page. Eight of the most recently added beads show on the home page but be sure to follow the category as we tend to add more than eight each time.
I welcome any comments and suggestions so please let me know what you think, after all this website is for you.
Other things:

Trollbeads Gallery Forum continues to offer collectors a place to gather for chat time, add inspiring photographs, we are now close to 14,000 photos in total! If you haven't yet, please join us on the forum to learn and enjoy your Trollbeads! The "Groups" have a wide variety of Swaps and State/Country groups to keep up with the activities in your area. The month of May maked it 2 full years old. Looking back at the friendships formed I can't tell you how thrilled I am. Forum members all over the world have met each other and it has been so much fun seeing the connections move past to internet stage to "in real person" stage. The group from Denmark were strangers to each other but have met and have enjoyed a few Trollbeads get togethers. The U.S. members-forget it I couldn't even begin to mention how many times they have met in real person!

Trollbeads Fest!2011 promises to be even better than last year's event (can you believe it?) and our planning is well underway. Our Trollbeads Fest website will soon be up (yeah Peter) and offering the information you will need along with the ticket purchasing option. Below are images from Trollbeads Fest 2010 to get you excited about 2011!! The photo below is my own personal paparazzi at Trollbeads Fest 2010 and a very happy Kristi Denning showing her winning "Ice Bear" model! Lower shot: Our Penni working hard.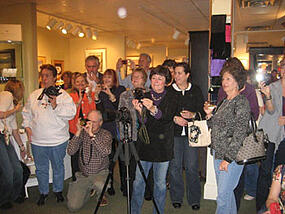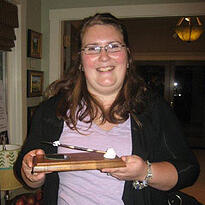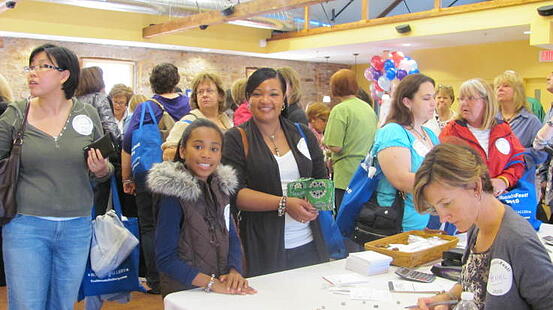 Many exciting plans for the future of Trollbeads are underway and I am so excited to be a part of this continuing saga and I myself very fortunate to be able to share it with all of you.
Louise Rogers May, 2011